Iris's Excadrill is the second Pokemon caught by Iris.
It is unknown when Iris caught Excadrill, but it is known that she caught him as a Drillbur. He is a target to Team Rocket who tries to capture him, but he is saved by his trainer.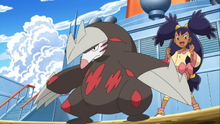 At first Excadrill refused to obey his trainer and often ignored her. But he soon learned later that he could trust her.
Ad blocker interference detected!
Wikia is a free-to-use site that makes money from advertising. We have a modified experience for viewers using ad blockers

Wikia is not accessible if you've made further modifications. Remove the custom ad blocker rule(s) and the page will load as expected.