May's Blaziken is May's starter Pokemon. He debuted in Get the Show on the Road.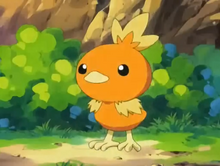 May chose him as her starter Pokemon from Professor Birch as a Torchic. He showed that he wanted her to be his trainer by rubbing against her. May uses him in many of her battles. He is a target to Team Rocket who tries to capture him a couple times.
Personality
Edit
Blaziken is loyal to his trainer and loves her very much.